Nokia 1 Review of Pros And Cons
- Analysis by KJ David
Nokia may call it the Nokia 1, but this humble 4.5-incher is one of the farthest from the top spot in Nokia's Android smartphone lineup. In fact, its cons, which include a 2-megapixel-only selfie camera

and a sub-standard 854 x 480 FWVGA display resolution

, sound like they don't belong on something that was unveiled during the 2018 Mobile World Congress. Moreover, the Nokia 1's primary camera comes in the form of a banal 5-megapixel-only rear camera

that is at least aided by an LED flash -- believe it or not, some basic and senior phones awkwardly lack camera flashes (not that they need them badly).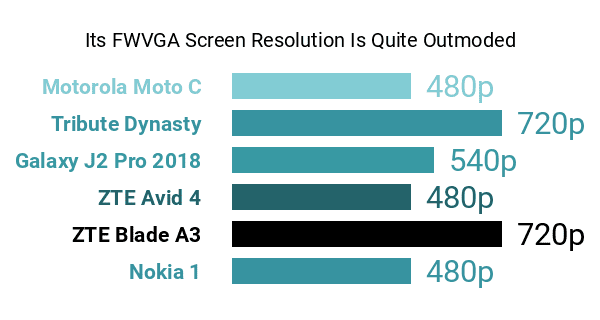 Don't Buy The Nokia 1 Before You Check:
Unsurprisingly, given its mellow feature set, the Nokia 1's pros and cons are powered by an old-fashioned quad-core MediaTek MT6737M processor

coupled with a basic-level 1GB LPDDR3 RAM

, a RAM count that was nearing obsolescence as of this technical specs review.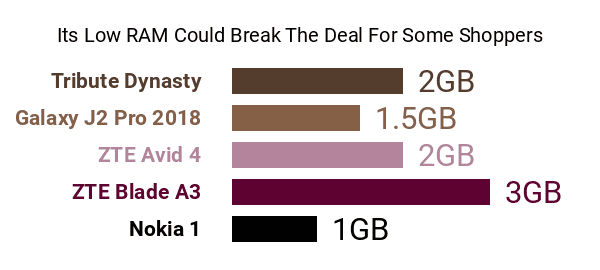 As for stamina, it feeds off a shabby (by 2018 standards) 2150mAh battery

that promises no more than 9 hours (540 minutes) of talk time

. Having said that, its 15-day maximum standby time and 53-hour music playback time

seem tolerable, at least when compared to the corresponding scores of some of its low-end Android rivals. At the very least, it comes with IP52 drip-protection

, which may not make it wholly water-tight, but does give it a slim edge against most other entry-level smartphones -- if you have a soft spot for phones that are totally impervious water, look no further than our list of the best waterproof phones here.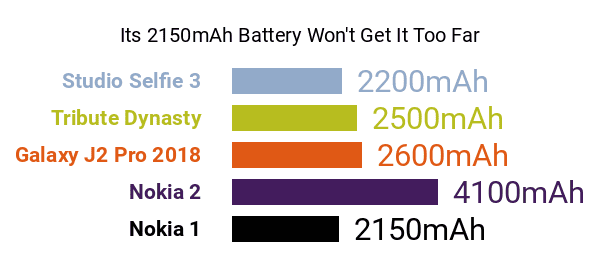 As for the Nokia 1's positive features, it runs on the Go edition of the Android 8.1 Oreo operating system

, which is designed to conserve phone storage and data allocation -- it comes with watered-down versions of core Google applications. An example of this is YouTube Go, a version of the mobile YouTube app that claims to run faster and use less data than the original app. Its Go-edition OS is accompanied by a 4G LTE Cat 4 network adapter

, which is highly welcome on a low-key smartphone like this one.
Related: Newest 4G Phones
The Nokia 1's other pros also include its support for up to 128GB's worth of external memory

that makes its 8GB-only native storage

a bit excusable. It also lets users personalize the phone by replacing its stock battery lid with a separately-sold Xpress-on cover of their choosing.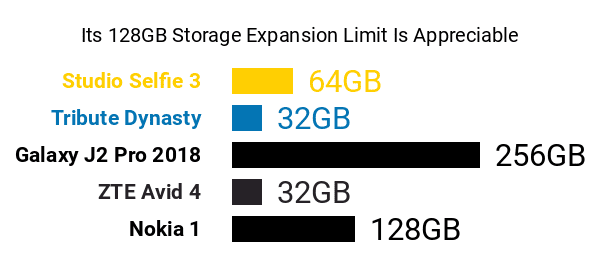 At the end of the day, even though its pros and cons make it a starter-class smartphone in almost every sense of the term, the Nokia 1 fits the bill as a mobile companion for practical users who are meticulous when it comes to storage space and data usage.
On-paper Review rating:

First, the Cons:
Sub-standard selfie cam:
In 2020, we would expect more than only 2-megapixel of selfie camera resolution.
Unknown SAR rating:
Be it because Nokia didn't list the information on its web site or because we were unable to find it, but we don't know the SAR rating (radiation level) for the Nokia 1, so we cannot say how close it is to the acceptable limit.
Slower smartphone:
A year ago, this smartphone's on-paper performance would have been just fine, but by today's standards, this 1.1GHz MediaTek MT6737M processor with a RAM of only 1GB (LPDDR3) seems a little pale, knowing how recent smartphones boast multi-core, 2+Ghz processors with more than 1GB of RAM.
Unknown weight:
It's disappointing that we could not find its weight information.
And Now, the Pros:
Rugged:
The Nokia 1 is billed as more resistant to water, dust and shocks.
Quad processor:
Not only does it have a 1.1GHz processor clock speed, but it also has 4 cores.
High talk time:
Nokia says that the Nokia 1 provides 540 minutes of talk time. If it lives up to that claim, it may be convenient.



You Should Also Be Interested In These:
* Prices shown are only indicative. They were recently fetched by our system and may have changed meanwhile.