Nokia 2 V Review & Pros And Cons
- Analysis by KJ David
Somewhat a revamped version of the Nokia 2, which hit the market way back in 2017, the Nokia 2 V (V stands for Verizon) offers an entry-level mix of pros and cons powered by a hefty battery -- we'll get to that further down this on-paper analysis. Among its downsides are some dinosaur-esque hardware specs, such as a four-core 1.4GHz Snapdragon 425 processor

and a disappointing 1GB-only RAM

. As of this technical review, a good number of its low-end rivals run on basic eight-core processors and do not go any lower than 2GB of RAM.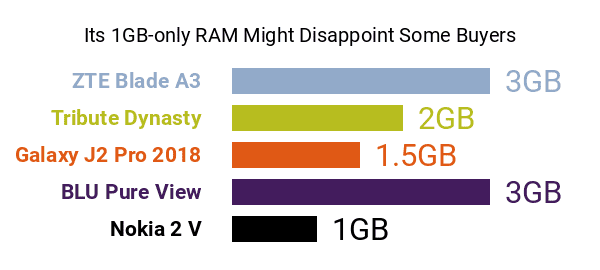 Don't Buy The Nokia 2 V Before You Check:
This Nokia model also won't be finding itself on Phonerated's list of the best camera-focused smartphones, seeing that it offers a so-so 8-megapixel main camera and a 5-megapixel front-facing secondary cam

.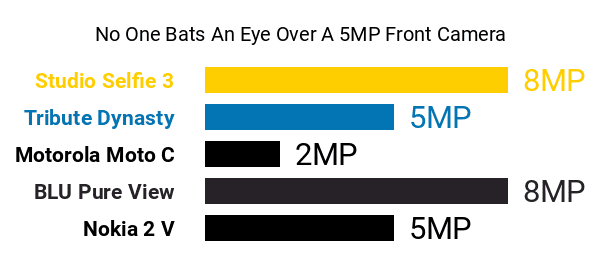 Despite its aforementioned cons on the processing front, the Nokia 2 V offers a hearty 4000mAh battery

whose full-tank capacity outstrips those of many other low-budget contenders by a substantial margin -- pop open our list of the leading high-endurance smartphones here. Its pros also include dual front-firing stereo speakers

that could give it an edge versus a lot of similarly-priced models when it comes to multimedia.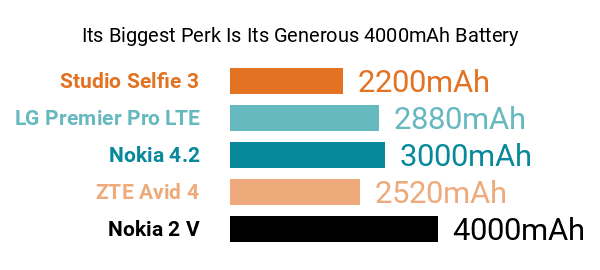 The 2 V runs on the Android 8.1 Oreo Go Edition operating system

, which means that it comes with integrated data-saving and storage-management features as well as a lighter version of the Google Assistant mobile companion.
This Verizon-carried prepaid phone (It was priced at $70 as of this write-up) features a modest 5.5-inch 1280 x 720 HD display and it comes with no more than 8GB of expandable memory

-- many of its low-end contemporaries offer twice or even four times as much native storage. Its pros and cons are housed inside a Blue shell with some Silver detailing.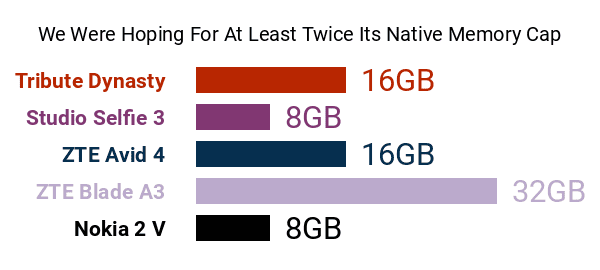 All-in-all, with those features up its sleeves, the Nokia 2 V has the makings of a solid choice for power-cautious shoppers who are in search of an entry-level Android.



You Should Also Check These Out:
* Prices shown are only indicative. They were recently fetched by our system and may have changed meanwhile.