Nokia 8110 4G Review & Pros And Cons
- Analysis by KJ David
Following the revival of the 3310 legacy phone, Nokia accompanied its MWC 2018 smartphone lineup with a revamped edition of the 8110, which a lot of sci-fi geeks have come to know as the Matrix Phone, seeing that the original phone was featured and popularized by the Matrix movies. More casual users, on the other hand, will recognize it as the classic Nokia banana phone, especially if you get the yellow one, owing to its peculiar curved form factor, which some might find more convenient than the relatively-bulky bodies of even some of the best flip phones out there .
Like most other phones in its category as of this review of its pros and cons, the 8110's setbacks include an unremarkable camera -- its lone camera being a modest 2-megapixel shooter

that's at least accompanied by an LED flash -- some of the best basic and feature phones reach camera resolutions of up to 5 megapixels, but hey, having a camera is better than nothing, right?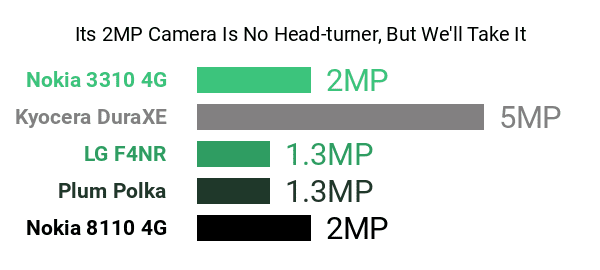 Don't Buy The Nokia 8110 4G Before You Check:
Still keeping with feature phone standards around the time of its release, the 8110 4G sports a humble 2.45-inch QVGA (320 x 240) display

. Additionally, it comes with no more than 512MB of RAM

, although its Qualcomm Snapdragon 205 dual-core 1.1GHz processor

sounds reassuring on a 2018 feature phone.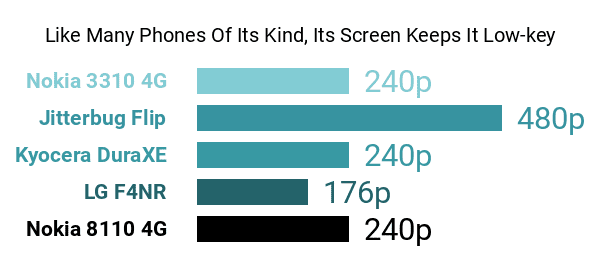 Despite the 8110 4G being a throwback phone, Nokia managed to sprinkle it with some modern-day specs, the biggest of which is its support for 4G LTE network connectivity

, which not many comparable phones offer. A byproduct of the forenamed pro is the 8110 4G's mobile hotspot function

that basically lets users treat it as a portable Wi-Fi hub for their smartphones. Its ergonomic curved design

also sounds like a difference-maker, aiming to make it feel more natural when held to your head. For aging users (Discover several other simple phones for seniors here), its keypad cover simplifies receiving phone calls

-- users can slide the cover out to answer calls and slide it back in to end them.
Sadly, with respect to its 4G connectivity, we found this 8110 incarnation's 1500mAh-only battery capacity

a tad underwhelming, more so because most of its self-attributed battery scores, such as the 7.2-hour talk time (432 minutes)

, fall below the corresponding averages as of its MWC 2018 debut -- basic and feature phones usually score high on these aspects, given their usually undemanding offering of pros and cons. On the contrary, however, its 25-day maximum standby time (600 hours)

surpassed the average value when it came out by over 80 percent.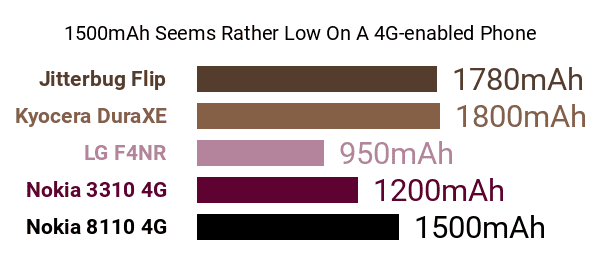 Joining the Nokia 8110 4G's feature set is its reasonable 4GB native memory aided by a microSD card slot

, matte keymat finish

, and of course, Snake. It goes back for its now-antique predecessor's polycarbonate shell, probably to induce further nostalgia, and it comes with two SIM card slots.
So, mixing some nostalgic features with contemporary technologies like a 4G network adapter, the 8110 4G seems like a valid choice for both retro phone lovers and those in search of a decent backup phone.
** This phone is also known as: Nokia Matrix Phone, Nokia Banana Phone



You Should Also Be Interested In These:
* Prices shown are only indicative. They were recently fetched by our system and may have changed meanwhile.