Most Popular
By Mobile Network
Cell Phones
The iPhone 7 vs the Very First iPhone: See The Stunning Evolution!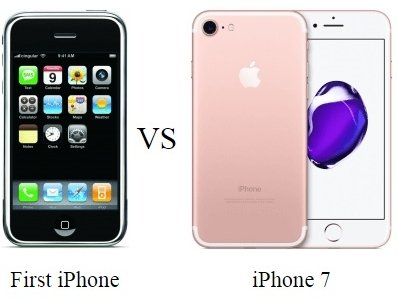 What do nine years mean in iPhone land? We checked it out and found changes as dramatic as 197%... well, wait! 1600% we meant! And we promise other whopping numbers if you read on.
Back in 2007, when the term smartphone was still jargon, the iPhone was a response to Motorola's once-wildly-popular RAZR flip phone and Nokia's N95 slider (both of which are now considered legacy phones), dabbling with the idea of a touchscreen-only handset that could compare with the famous phones of its era. Nine years later and numerous iPhones in, our specs comparison between the First iPhone versus the 2016 iPhone 7 reveals how much has changed from the Original iPhone's exploratory offering up to the iPhone 7's flagship-class feature set. Hills may be steep. Please remain seated.
Camera Details

Back in 2007, the Original iPhone came out with only a single camera (2-megapixel), which did not even have a video-recording option nor a usual (by today's standards) accompanying LED flash. Selfies and video calling were also not too big back then, so the now-conventional idea of a front-facing deputy camera would not have made sense.

Fast-forward to 2016, the iPhone 7 now boasts a 12-megapixel camera, which not only posts a 600% increase in camera resolution over the First iPhone, but also captures Ultra HD (3840 x 2160) videos, touts a 6-element sapphire-covered lens, and has a quad-LED true-tone flash -- the first of its kind. Accompanying it is a 7-megapixel FaceTime HD front-facing camera. For a much

clearer view

of this camera comparison between the Original iPhone and the iPhone 7, our colleagues over at the Verge compared actual shots of both iPhones in a

head-to-head camera showdown

.

While both of the iPhone 7's cameras dwarf that of the Original iPhone's (as revealed by the significant differences), however, it's not exactly the be-all-end-all of camera phones, since we have seen up-to-23-megapixel rear cams and a few 16-megapixel selfie shooters, though it is safe to say that imaging is a key factor in the iPhone's progress.

Here are more Camera Details details to compare:

Camera Resolution
2-megapixel
12-megapixel
Camera flash
?
Quad-LED True Tone
Camera Optics
?
6-element lens with sapphire crystal cover
Camera Aperture
?
f/1.8
Digital Zoom
?
5x
Max Video Resolution
?
3840 x 2160 px
Video frames per second
?
30
SELFIE CAMERA Comparison Of The First iPhone Vs iPhone 7
Apple iPhone

iPhone 7

Selfie Cam Resolution
?
7-megapixel FaceTime HD
Selfie Options
?
1080p (Full HD) video recording
Selfie Features
?
Auto HDR
Selfie flash
?
Retina Flash
Aperture
?
f/2.2
Display

From the First iPhone's 3.5-inch HVGA (480 x 320) TFT interface, Apple's principal product has morphed into a 4.7-inch 1334 x 750 LED-backlit IPS Retina HD smartphone, rocking a roughly-134-percent larger screen. The iPhone 7 also boasts an 197.6 percent increase in DPI (pixel density), sporting a 326ppi display versus the First iPhone's 165ppi screen.

Apple also built around the growth of the iPhone screen with several desirable display perks, including the 3D Touch pressure-sensing technology, a fingerprint-resistant oleophobic coating, and a 625nit maximum brightness level.

All that said, despite the huge differences between the first and the latest (as of 2016) model, the iPhone has a pretty huge mountain to climb if it wants to sit at the top of the display food chain, since most of the models in our list of the

top smartphones in the US as of 2016

boast Quad HD (2560 x 1440) screens with roughly 500ppi densities.

As far as this display comparison is concerned, however, the iPhone 7 possibly makes its 2007 ancestor proud.

Here are more comparison points:

Apple iPhone

iPhone 7

Display size
3.5 in
4.7 in
Display dots per inch
165 DPI
326 DPI
Display Type
TFT
LED-backlit IPS Retina HD
Display Resolution
480 x 320 px
1334 x 750 px
Display's superficy
5.65 sqr in
9.43 sqr in
Display finish
?

Fingerprint-resistant

oleophobic coating
Display brightness
?
625 nits
Display contrast
?
1400:1 nits
Performance

Of course, performance has a special place in our geeky hearts. The First iPhone's now-obsolete (though Apple used to boast it as top-of-the-line in its time) hardware setup is composed of a 412MHz single-core CPU with the iOS 3.1.3 serving as its cherry-on-top. In comparison, the iPhone 7 now rocks a 64-bit A10 quad-core Fusion chip accompanied by an embedded M10 motion coprocessor crowned with iOS 10. As such, Apple claims that the iPhone 7 operates exactly 120 times faster than the Original iPhone, which obviously sounds like a more-than-substantial difference reached in a span of only 9 years.

As for storage, the First iPhone's 16GB non-expandable maximum inbuilt memory (the earliest editions only had 8GB or 4GB memories) has since fallen into the entry-level realm. Now, the iPhone 7 struts around with a larger memory than all previous iPhone models', at 256GB (128GB and 32GB versions are also offered), which only a handful of Android-based phones featured as of its release. A 1600% percent increase over the Original iPhone's memory from a little under a decade ago? We'll take it.

While some of our tech-savvy friends still take issue with the iPhone's lack of a memory card slot, and though the iPhone 7 is not exactly the fastest smartphone out there, if there's one thing we can learn from this hardware comparison between the 2016 iPhone edition and its great grandfather, its that the iPhone has come a long way in terms of performance.

Here are more specs to check out:

Apple iPhone

iPhone 7

Operating System
iOS 3.1.3
iOS 10
Processor
?
A10 Fusion with embedded M10 motion coprocessor
CPU Cores
1
4
CPU architecture
?
64-bit
CPU clock speed
412MHz
?
Physical Features

Obviously, if you are going to gradually increase the iPhone size from the First iPhone's 3.5-inch interface to the iPhone 7's much-larger 4.7-inch facade, going beyond Steve Jobs's proposed 4-inch ideal size in the process, there's bound to be several differences in terms of physique.

The most-obvious disparities are the iPhone 7's 67.1mm width and 138.3mm height, compared to the iPhone 1's 61mm and 115mm respectively, but these are only consequences of enlarging the display. What really got our attention is the iPhone 7's much-thinner body of only 7.1mm -- about 163% sleeker than the First iPhone's 11.6mm shell. As a result, the iPhone 7 likely joins the phones in our latest

list of the thinnest smartphones

. Note, though, that the iPhone 7 scratched the standard 3.5mm headset jack, probably to retain its slim form factor, but that's a conversation for a another day.

Another of the iPhone 7's tricks-up-its-sleeves is its IP67-grade waterproofing, which, though nothing new among Android devices, is a first for the iPhone. This makes the iPhone 7 more-fit for pool parties than all of its predecessors.

Here are more Physical Features features to look at:

Apple iPhone

iPhone 7

Weight
4.8 oz
4.87 oz
Weight grams
135
138
Thickness
0.46 in
0.28 in
Width
2.4 in
2.64 in
Height
4.5 in
5.44 in
Thickness (metric)
11.6 mm
7.1 mm
Width (metric)
61 mm
67.1 mm
Height (metric)
115 mm
138.3 mm
Ounces per cubic inch
0.97
1.21
Grams per cubic cm
0.17
0.21
Rugged
?
IP67 (IEC standard 60529)
Ambient light detector
?

Connectivity
Apple iPhone

iPhone 7

3G networks
?
TD-SCDMA, UMTS/HSPA+/DC-HSDPA
4G networks
?
TD-LTE, FDD-LTE
Maximum data rate
?
450Mbps
SIM card type
Mini SIM (2FF)
Nano SIM
Wi-Fi
802.11 b/g
802.11a/b/g/n/ac with MIMO
Head SAR value (radiation)
0.974 w/Kg
?
Bluetooth Technology
2.0
4.2
Storage Memory
Storage Memory
16GB (8GB and 4GB versions also available)
256GB (128GB and 32GB versions also available)
Battery Life
Apple iPhone

iPhone 7

Stand-by Time
250
240
Talk Time
480
?
3G Talk Time
?
840
Battery type
?
Lithium-Ion (built-in)
Battery Power
?
1960 mAh
mAh per ounce
?
402
mAh per gram
?
14
mAh per mm thick
?
276
mAh per display square in.
?
208
Music Playback Time
?
2400
Browsing Time
?
720 (3G), 720 (LTE)
Wi-Fi browsing time
?
840
Video Playback Time
?
780 (wireless)
Other
Sensors
Accelerometer, Proximity
Three-axis gyro, Barometer, Accelerometer, Proximity, Ambient light
Finish
?
Bead-blasted 7000-series aluminum
After having explored the vast differences between the Original iPhone and its iPhone 7 descendant via this specs comparison, we leave you with these takeaways:
The First iPhone has long reached its sunset years, both in terms of physique and technical features, but for those of you who want to build a collection of legacy handsets (or simply a top-to-bottom iPhone collection), some Original iPhone models are still up for grabs and go for around .
For us, its young and way-much-pricier offspring, the
- Comparison analysis by KJ David, Phone Profiler
Legend:
? means that we do not have the information, NOT necessarily that the feature is not offered.
Color boxes underscore specs that seem to stand out.
Specifications cannot be guaranteed accurate. Read our terms of service for more details.
Don't Be Selfish & Let Others Know... Share This Page



* Prices shown are only indicative. They were recently fetched by our system and may have changed meanwhile.

Full Menu