BLU Studio G3 Review of Pros And Cons
- Analysis by KJ David
BLU's 2017 Studio G3 may be over a year younger than its direct predecessor, the Studio G2 , but it sticks to the G2's starter-class entry-level specs formula. As a matter of fact, it only comes with 2050mAh of battery power this time

, whereas the older G2 entered the market with 2200mAh in the tank. Moreover, the G3 suffers from a much-lower pixel density score of only 188ppi

, compared to the G2's 196ppi, but this is probably a consequence of its slightly-larger 5.2-inch display

(The G2 has a 5-inch screen). Despite extending the screen size a bit, however, the Studio G3 still opts for a substandard 854 x 480 (FWVGA) resolution

, although we find its curved cover glass

to be a nice touch.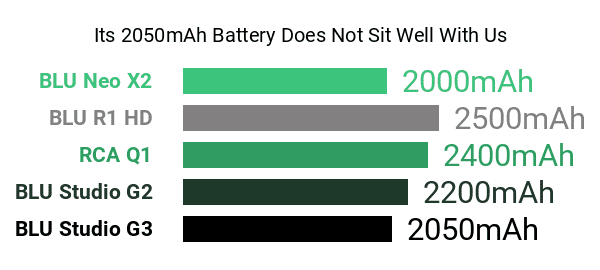 Don't Buy The BLU Studio G3 Before You Check: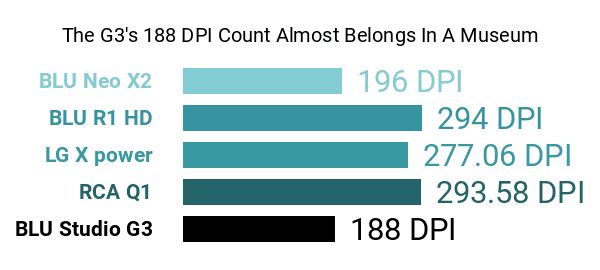 Looking at its other pros and cons, the 3G-only

Studio G3 runs on a low-caliber, yet familiar in this Android class, MediaTek 6580 1.3GHz quad-core processor

accompanied by no more than 1GB of RAM

and a dedicated Mali-400 graphics processor

. Its storage capacity, particularly, an 8GB memory that can be expanded by a maximum of 64GB

, sounds like an unsung pro, but only because several similarly-specked models settle for 4GB-only memories and support introductory-class 32GB microSD cards only.
You Should Try: Celliminator Phone Finder Finds Your Best 5 Phones
As for its cameras, the G3 comes with a 5-megapixel front-facing camera spruced up by its own front-firing LED flash

, which not many entry-level smartphones have. At the back, it is fitted with a 5-megapixel rear-facing main camera

that is obviously a con when it comes to pixel resolution, but it interestingly captures Full HD (1920 x 1080) videos

at best. Sure, it sounds like negligible device when pitted against the best camera phones , but a flash-equipped selfie cam and an FHD-video-capable rear cam go a relatively long way in the low-end market, at least as of this data-driven review.

Housing the Studio G3's pros and cons is an aircraft-grade aluminum frame

, while the Android 7.0 Nougat platform and dual micro SIM card slots top off its feature set.
At the end of the day, the BLU Studio G3 is an Android for the smartphone novice, with a 3G-only network reach and an underwhelming battery leading its drawbacks, but its selfie flash and aluminum shell show that it's not without some appreciable points as well.
On-paper Review rating:

First, the Cons:
Is there an HDMI port?:
The Studio G3 can record high-resolution (1920 x 1080 pixels) videos. Bravo! But we couldn't confirm whether it had an HDMI port or not. HDMI, which lets you connect to an HDTV, is not essential, but would be great on an HD phone.
Ordinary display specs:
We like that the BLU Studio G3 has a 5.2-inch display, but a resolution of only 854 x 480 pixels results in barely 188 dots per inch -- compare this to the the Samsung Galaxy Series (210+ DPI).
Slower smartphone:
A year ago, this smartphone's on-paper performance would have appeared nice, but compared to recent smartphones, this 1.3GHz MediaTek 6580 processor with only 1GB of RAM seems a little pale, knowing how recent smartphones boast multi-core, 2+Ghz processors with more than 1GB of RAM.
Unknown weight:
It's disappointing that we were not able to find information about its weight.
Pros:
Quad-core processor:
Not only does it clock at 1.3GHz, it is even quad-core.
Memory can be expanded up to 64GB:
The Studio G3 doesn't come with an included memory card but it supports up to 64GB in memory expansion, which is convenient to store pictures and video clips shot with the included 5-megapixel camera.
Good frames-per-second video:
Video can be recorded at 30 frames per second, which is a high-enough frames per second rate by today's video phone standards.
Average front cam:
The selfie cam resolution seems just about average.
** This phone is also known as: BLU G3
*** These pros and cons are spotted automatically based on our analysis formula and the specifications we have in our database for this product. If you notice a mistake, please let us know.



You Should Also Check These Out:
* Prices shown are only indicative. They were recently fetched by our system and may have changed meanwhile.