BLU Studio Pro Review & Pros And Cons
- Analysis by KJ David
The BLU Studio Pro, despite boldly containing the word pro in its name, is ironically marred by a bunch of age-old cons, which is highly uncharacteristic for a phone that features the popular (as of September 2017) dual-lens rear camera technology.
As hinted above, its biggest selling point is the dual camera system

, though admittedly a low-resolution one, perched on its rear end. This consists of an 8-megapixel main cam and a 2-megapixel sidekick cam, which are nicely accompanied by a dual-LED flash

. In addition to its rear cameras, the Studio Pro also comes with a 5-megapixel front-facing camera for selfies, equipped with its own dedicated frontal LED light

.
Related: 2017's Best Camera Phones

Don't Buy The BLU Studio Pro Before You Check:
Looking into this 3G-only

Android's processing specs, we found nothing of note, seeing that it operates on an archaic 1.3GHz quad-core MediaTek 6580 processor

, a paltry 1GB-only RAM

, and a Mali-400 graphics chip

-- one of the most-basic GPUs on the market. It is also not a phone for the power-hungry user, lugging no more than 2000mAh of power

. In comparison, many other starter-class 2017 smartphones have at least 2500mAh or higher in the tank. It does, however come with dual micro SIM card slots

, an often understated pro that it shares with most other BLU smartphones.
Related: Best Dual SIM Phones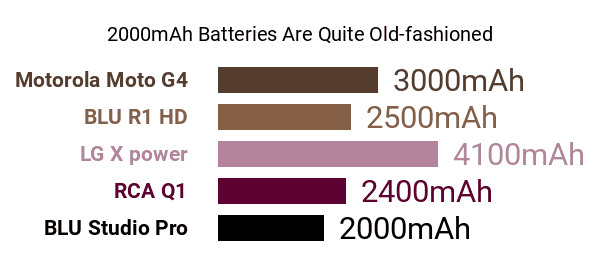 Up front, the Studio Pro is fitted with a 5-inch HD-720p 294ppi display

, which is a con, all things considered, but not that depressing, given its sluggish-sounding hardware. As for storage, it comes with only 8GB of native memory

and has a microSD card allowance capping off at a mere 64GB

. These are potential deal-breakers (especially for multimedia junkies), knowing that plenty of other models in this Android category have storage memories that start off at 16GB and memory card allowances capping off at 128GB.

Perhaps an unsung facet amidst its low-caliber pros and cons is the Studio Pro's aluminum chassis with a diamond-cut polished finish

-- not too shabby for a phone with only 1GB of RAM, huh?
Related: Popular Basic US Smartphones
So, with the kind of pros and cons that it brings to the entry-level table, the BLU Studio Pro serves as a cheap introductory Android for users who want to experience what a dual-lens setup can do, but are not ready to go for a full-fledged high-end device just yet.
** This phone is also known as: BLU Pro Studio



You Should Also Check These Out:
* Prices shown are only indicative. They were recently fetched by our system and may have changed meanwhile.