HTC One X10 Review of Pros And Cons
- Analysis by Christelle Nina
The One X10 is an offering from HTC that surely adds flavor to the mid-range market. From the big talks about its battery and strength to the apparent low-light-friendliness of its rear camera, it surely has interesting specs that we have analyzed and sorted into pros and cons below.
As mentioned, its 3000mAh battery

definitely deserves recognition. It, after all, appears to be one if its focal points. According to HTC, this device contains the longest-lasting battery from their smartphone lineup as of July 2017. As shown in the comparison below, it's not the best as far as raw mAh count is concerned. However, it still trumps many of its rivals in this department, and for that we consider its battery a pro.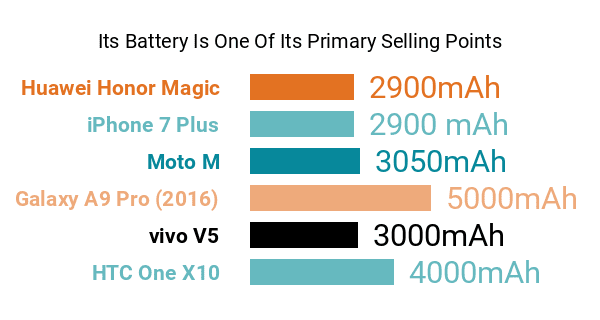 Don't Buy The HTC One X10 Before You Check:
Related: Big Battery Phones
It also appears like the One X10 may have some rugged features, as HTC claims that the product was "built strong" and mentions the device having survived "gruelling" temperature, drop, and corrosion tests

. However, we can't find definite rugged information (such as quantitative-based ratings) about the device.
As for its performance specs, the One X10 evidently took a more subdued approach. Its maximum clock speed of 1.8GHz

trails behind a number of models from other brands. To add, its 3GB RAM

, while not being entirely-appalling, looks sorely out of place in the comparison below.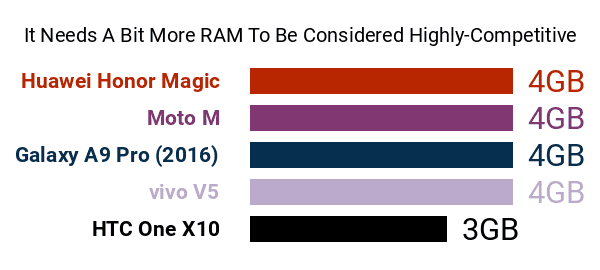 Related: Fastest Android Phones
Imaging wise, its 16-megapixel main camera

looks promising alongside the 8-megapixel selfie sensor

. We also appreciate that the latter has a wide-angle 86-degree lens

and 1080p-recording capabilities

.
Perhaps as a repercussion of its battery, this smartphone takes form in a thick and relatively-heavy body. Its depth stands at 8.23mm

and it also weighs 175 grams

. As such, it's definitely not for sticklers for portability.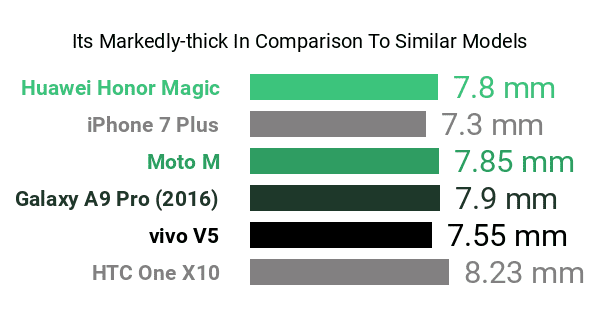 After reading the mentioned pros and cons, do you think you've found your match in the HTC One X10? If you're into big batteries and attractive camera specs, then we think the answer may be closer to a yes. However, it's clear that it isn't a smartphone for the performance-minded Android user. With that, if you belong to this latter category (or even if you don't, really) we recommend you take a look at our Celliminator, which finds you the best phones according to your personal preferences.
On-paper Review rating:

First, the Cons:
Unknown weight:
It's frustrating that we could not find its weight information.
And Now, the Pros:
Very low radiation:
It features a SAR rating of just 0.418 w/kg, which is good, considering that SAR is expressed on a scale of 0 to 1.60 w/kg.
Faster microprocessor:
Its processor speed of 1.8GHz (quad 1.8GHz Cortex-A53 + quad 1.0GHz Cortex-A53) with 8 cores is among the fastest in the current market.
It supports the wireless NFC protocol:
NFC is used by electronic payment systems and other uses.
Miracast-enabled:
It features the Miracast technology, a system that lets you share your display with a TV
Huge display:
We are talking about an above-average screen, making it a phablet: 5.5 inches and a resolution of 1920 x 1080 pixels means about 12.93 square inches and an image sharpness of at least 401 dots per inch (DPI)!
The memory can be expanded up to 256GB:
The HTC One X10 is not sold with a memory card but it can accept up to 256GB of memory expansion, which is convenient to store photos taken with the built-in 16-megapixel camera.
Very high-resolution photos:
A 16-megapixel camera offers many more pixels than most phones. It also has these features: Advanced pro mode with manual control and RAW format support, Continuous shooting (up to 4fps), Face detection, Hyperlapse, Panorama mode (up to 120 degrees), Selfie timer (up to 10 seconds), Video pic, Zoe capture.
Average front cam:
The selfie cam resolution seems just about average.
** This phone is also known as: HTC X10 One
*** These pros and cons are spotted automatically based on our algorithm and the data we have on file for this phone. If you spot a mistake, please let us know.



You Should Also Be Interested In These:
* Prices shown are only indicative. They were recently fetched by our system and may have changed meanwhile.