Nokia 210 Review of Pros And Cons
- Analysis by KJ David
The 2019 Nokia 210 is an undistinguished call-and-text model that, like many other basic phones out there, comes with a tiny 2.4-inch 320 x 240 QVGA screen

coupled with a 16MB memory

, the latter being somewhat the bare minimum for phones within this category. The absence of a microSD card slot

in its specs list also sounds like a con to watch out for, if only because a few of its cousins under Nokia's feature phone lineup come with memory card slots for multimedia storage.
Don't Buy The Nokia 210 Before You Check:
The 210, which, by the way, reminds us of some popular senior-friendly models, is powered by a MediaTek MT6260A CPU that's just about satisfactory for a basic phone with its kind of pros and cons. It feeds off a 1020mAh battery whose 18-hour maximum talk time

and 20-day standby time

passed the corresponding average values as of this Phonerated review. Those scores might also come off as reassuring for users who plan to use it as a backup to their smartphones.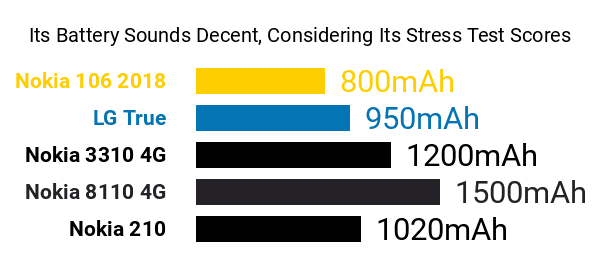 A couple of its appreciable pros include its basic Opera Mini browser for some light web browsing and Facebook app

. It also comes preloaded with Snake, for those who want to wind back the clock for a bit of nostalgia. The 210 offers a 0.3-megapixel (aka VGA) camera

that obviously sounds prehistoric compared to the already-basic cameras sported by models like the 3310 4G and the 8110 4G.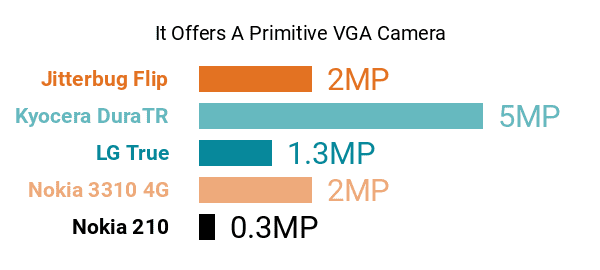 Joining the mix is an FM radio, an MP3 player, and two mini SIM card slots

, with Nokia's proprietary S30+ platform rounding out its technical pros and cons.
Also Check Out: The Best Dual-SIM Phones
So, donning a typical (among basic phones) polycarbonate shell and a coating of either Black, Red, or Charcoal, the Nokia 210 caters to users who are shopping for a basic call-and-text phone either for aging relatives or as a backup device.



You Should Also Be Interested In These:
* Prices shown are only indicative. They were recently fetched by our system and may have changed meanwhile.